Mason Bees and Leafcutter Bees for Sale
Joel Heathcoat
2022-07-06
Extremely happy with my purchase. Fast shipping! I ordered last wed and checked my mailbox and there they were. Got there house set up and pulled the tape and a few started crawling out. really excited to watch the progress and the kids are already curious!
The first order of Leafcutter bees did not hatch successfully. I contacted Gerald at Rockypond. He replaced my order very quickly at no charge! I look forward to continuing doing business with him! Thank you for exceptional customer service!
Our Mason bees came very quickly. I was sent an email when they were shipped about what I should have on hand/what to expect when they arrived. Just like they said a few had already hatched. Out of 20 cocoons 19 hatched within 48 hours. We will absolutely be ordering from Rocky Pond again. Thank you!
Received mason bees soon after order, sent educational material both by e-mail, and with shipment. Definitely would order from them again.
Roxanne Baxter
2022-03-17
I ordered 100 cocoons on a Sunday afternoon, they were shipped on Monday morning early and I received them that Wednesday! Talk about fast service! I immediately placed them with my mason bee tubes and I'm excited to see them emerge.
Kristina Lengvenis
2022-03-03
I ordered some Mason bees yesterday and they were in my mailbox this morning! You couldn't ask for faster service! They also emailed me links to a great video and extensive instructions on how to raise the bees successfully. I can hardly wait to open the container and watch them go to work!
Very helpful with information and questions that I had.
Have been purchasing my mason bees from Rocky Pond Nursery for years. Exceptional customer service. They also provide a mason bee guide and an educational mason bee video
Mason Bees and Leafcutter Bees
Mason Bees and Leafcutter Bees are extraordinary pollinators. You'll need a hundred stingless Mason bees or leafcutter bees, or you'll need to bring in 10,000 honeybees.
Why?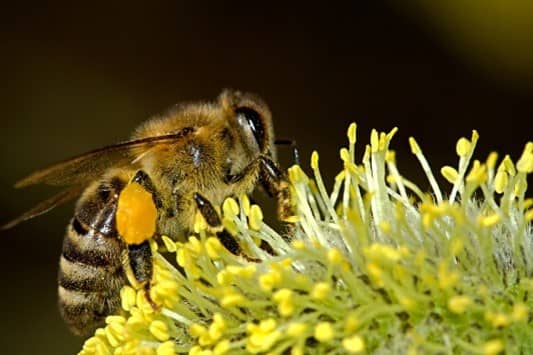 Honeybees are fastidious in their pollen collection. First, they mix flower pollen with nectar to form ambrosia or bee bread. Then, they stick it to their hind legs for transport; it doesn't come off. In ancient Greek myths, ambrosia is the food of the Greek gods. Ambrosia might be tasty to Greek gods, but it is not a very good pollination substance. A honeybee must visit the blossom 20 times before depositing enough pollen to get the job done.
Mason Bees land on a blossom once and the job is done
Why? They pollinate flowers and fruit in a completely different way.
They utilize the earth's electrical field.
Sparks don't fly, but pollen does.
Atmospheric electricity is the field of study. The earth is one gigantic electron sink, making the earth and all plants growing on it negatively charged. Mason bees and Leafcutter bees are covered with tiny hair. As they fly their wings produce a positive charge. When they land on a flower or fruit blossom they react like an electromagnet. The yellow pollen on the flower blossom sticks to them like iron filing on a lodestone; when they land on another blossom the process is reversed.
Optimal Pollination is desirable why?
A is optimal pollination, B is partial pollination while C is poor pollination.

Optimal pollination will increase yields by 25%.
Questions you could ask.
1. How can optimal pollination in your garden prevent famine in Africa?
2. How can Mason Bees/Leafcutter Bees pollination in your garden impact your family's health?
3. How will your family garden teach your children to be farmers?
4. How can optimal pollination increase the bottom line on our nation's farms by 11% or more?
For the answer to these questions click Here.
We have Mason Bees for sale and Leafcutter Bees for Sale.